DRONE INDUSTRY ANALYSIS: Market trends & growth forecasts
BI IntelligenceThe Rise of the Drone Industry
For years, the drone market was in a nascent phase and had yet to break into the mainstream. Then, in 2015, drone industry growth took a major step forward when the Federal Aviation Administration (FAA) granted hundreds of new exemptions for companies to operate drones in the U.S.
These exemptions included several new use cases in multiple industries, such as insurance, construction, and agriculture. Each of these scenarios demonstrate the broad range of commercial applications for drones.
The FAA helped push drone market growth forward by formulating a regulatory framework with its consumer drone registry. Drone manufacturers and tech suppliers are doing all they can to capitalize on this and turn drones into a full-fledged industry.
Drone Industry Growth Until Now
There's no arguing the drone industry growth that has occurred in the last few years, but discrepancies arise in trying to quantify that growth depending on how you define a drone, according to Recode. Total drone unit sales climbed to 2.2 million worldwide in 2016, and revenue surged 36% to $4.5 billion, according to research firm Gartner.
But the Consumer Technology Association points out that 2.4 million personal drones were sold in the U.S. alone in 2016, more than double the 1.1 million sold in 2015.
The difference occurs because different firms have different definitions for drones, notes Gerald Van Hoy, senior analyst at Gartner. His firm's definition is narrower and only includes aircraft that can connect to the Internet. But the CTA includes craft that weigh less than 250 grams that don't even need to process any data or be registered with the FAA. Excluding these drones, the CTA's estimate for drone sales in the U.S. in 2016 drops to 825,000.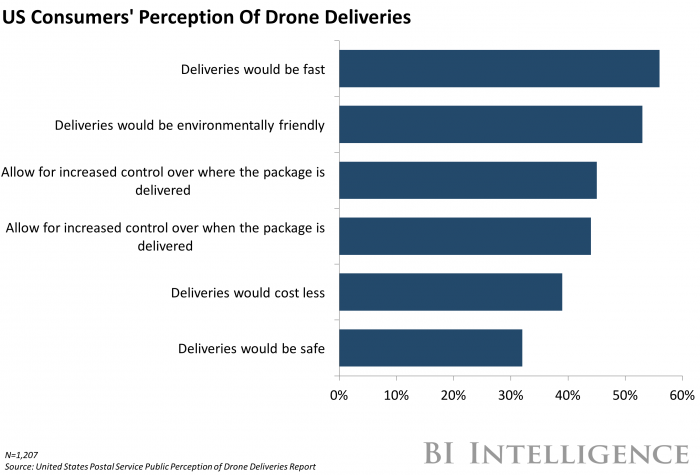 BI Intelligence
Drone Market Trends and Forecasts
BI Intelligence, Business Insider's premium research service, defines drones as aerial vehicles that can fly autonomously or be piloted by a remote individual. Under that criterion, BI Intelligence expects sales of drones to surpass $12 billion in 2021. That's up by a compound annual growth rate (CAGR) of 7.6% from $8.5 billion in 2016.
This growth will occur across the three main segments of the drone industry: Consumer Drones, Enterprise Drones (also known as Commercial Drones), and Government Drones.
Consumer drones are drones purchased by individuals for noncommercial and nonprofessional purposes. BI Intelligence expects consumer drone shipments to hit 29 million in 2021, which would indicate a CAGR of 31.3%.
For enterprise drones, BI Intelligence expects shipments to reach 805,000 in 2021 with a five-year CAGR of 51% from 102,600 in 2016.
Finally, government drones fall into two categories: military and public safety. The forecast for these is a less clear, but the military drone market is by far the most mature right now. The U.S. military has been using drones for combat since 2001, and it rapidly expanded its drone fleet to more than 7,000 by 2012. The Department of Defense budget in 2016 allocated $2.9 billion for more than 50 new drones for combat and surveillance, according to the Bard Center for the Study of Drones.
Drone Industry Statistics and Outlook
Consumer drones had been held back by the high price tag attached to the drone models. But more inexpensive toy drones are becoming increasingly popular for recreational use. Increasing competition among drone manufacturers is further pushing down costs, particularly among higher-end models that can shoot photos and live stream video.
The drone market is expanding with new models that target different segments of the consumer and commercial market, which often overlap. In 2015, consultancy Frost & Sullivan estimated that China-based DJI owned 70% of the market for consumer and commercial drones. Its Phantom drones are the most popular in the world for both consumer and commercial purposes thanks to their reliability and superior photography and video capture capabilities.
But several smaller companies, such as 3D Robotics, Lilu, Yuneec, and Parrot are all trying to chip away at DJI's market share.
The enterprise drone market has significantly greater long-term potential both in size and economic impact than the consumer or military drone industries. It is the smallest but fastest-growing drone market by revenue.
As for military drones, Israel and the U.S. make up more than 80% of all military drone exports worldwide, according to the Stockholm International Peace Research Institute. Most of these drones are for surveillance only, but at least 10 countries have military drones capable of carrying out combat missions. That number should rise quickly, however, in the next few years.
More to Learn
The technological potential with drones is immense, and its uses will only grow with time. That's why BI Intelligence has spent months compiling the greatest and most detailed collection on drone technology called The Drones Report: Market Forecasts, key players and use cases, and regulatory barriers to the proliferation of drones.
To get the full report, subscribe to an All-Access pass to BI Intelligence and gain immediate access to this report and more than 250 other expertly researched reports. As an added bonus, you'll also gain access to all future reports and daily newsletters to ensure you stay ahead of the curve and benefit personally and professionally. >> Learn More Now
You can also purchase and download the full report from our research store.
Read more: