Spanish Project To Introduce Drones at Airbus Plant
Aerospace Spanish Project To Introduce Drones at Airbus Plant – June 18, 2017, 4:48 AM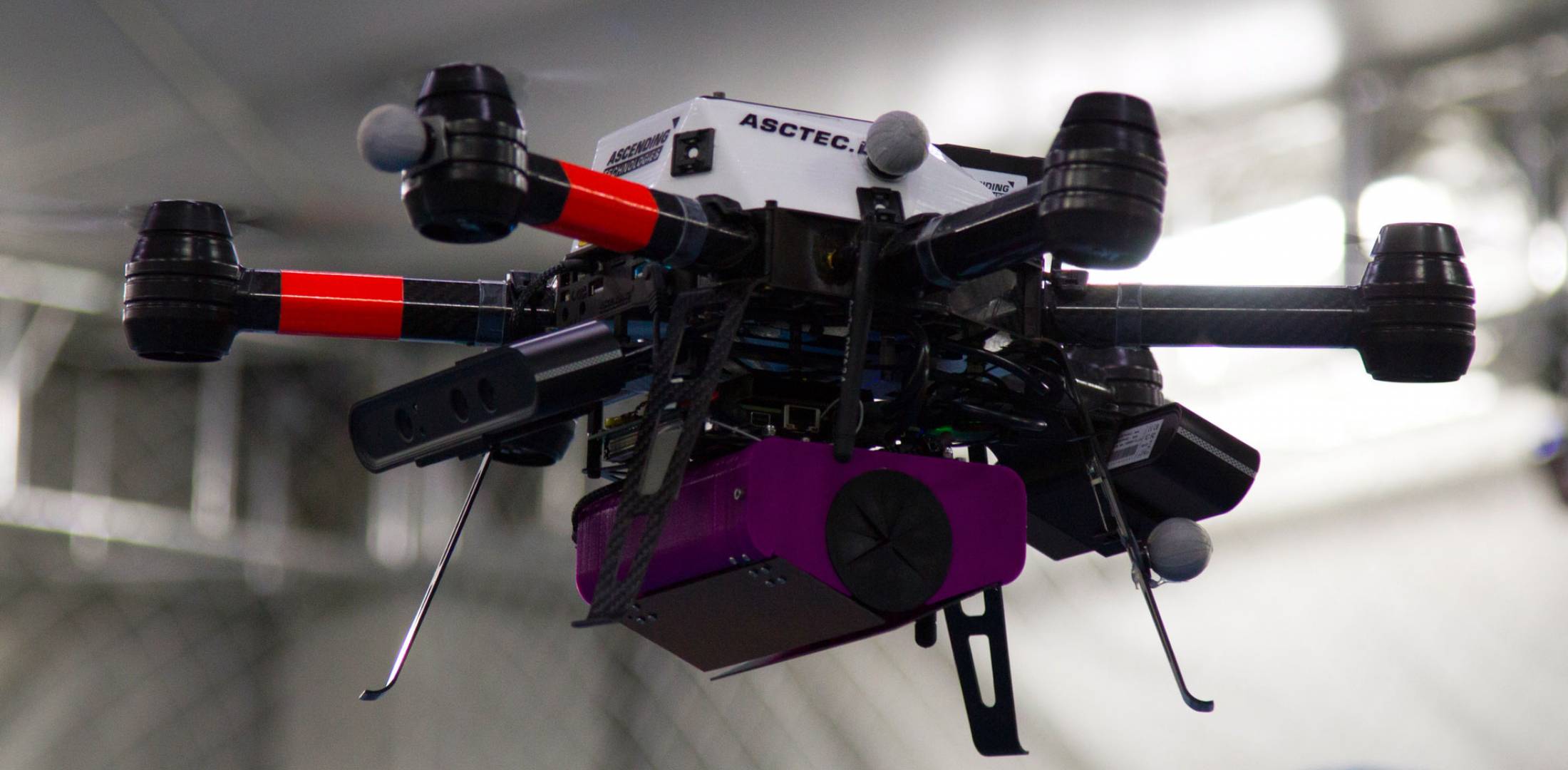 A drone like this one from Ascending Technologies, now owned by Intel, was used at an indoor obstacle course to develop trajectory planning and collision-avoidance algorithms.
Researchers with Spain's Center for Advanced Aerospace Technologies (CATEC), the University of Seville and Airbus will test the use of a small multi-rotor drone to perform tasks in an aerospace manufacturing plant under the European Robotics Challenges (EuRoC). The university-led Group on Robotics, Vision and Control (GRVC) and CATEC represent one of two teams selected to advance to the third stage of the challenge, which calls for starting a pilot program in an actual factory.
The GRVC-CATEC team will implement a drone-based tool delivery and locating system at Airbus Defence and Space's Centro Bahía de Cádiz site in El Puerto de Santa Maria, Spain, early next year, said Antidio Viguria, head of CATEC's avionics and unmanned systems department. The plant specializes in manufacturing carbon fiber components for programs including the A400M transport and A330 MRTT (multi-role tanker transport). It also produces fan cowl doors for the A320neo narrowbody airliner.
TUM Flyers, consisting of the Technical University of Munich and Swiss engineering and architectural firm Schällibaum, was the second team chosen to advance under the "plant servicing and inspection" track of the robotics challenge, which is funded by the European Union. It is developing a system using drones to inspect bridges and other structures.
Under the initiative, the GRVC-CATEC researchers have developed two use cases—employing drones to transport small tools where they are needed; and to locate missing tools to prevent foreign object damage (FOD) in the manufacturing process. In the latter case, the drone locates a missing tool marked with an ultra-wideband radio frequency identification (RFID) tag. The team named the project ARCOW, for Aerial Robot Co-Worker in Plant Servicing.
During the first nine months of the robotics challenge, the team developed the basic technology and control algorithms at an indoor obstacle course at CATEC. The project used a multi-rotor drone supplied by Ascending Technologies, a German company that U.S. semiconductor manufacturer Intel acquired in early 2016. CATEC and the university fitted the drone with an off-the-shelf Asus depth-sensing camera and developed an indoor localization system using the sensor for trajectory planning and obstacle avoidance.
In January, the European Parliament awarded the GRVC-CATEC team the "Best Drone-Based Solution" prize at the first European Union Drone Awards ceremony held in Brussels. Clear Flight Solutions of Enschede, The Netherlands, developer of robotic, remotely controlled "Robirds" for controlling birds at airports, among other drone applications, was also recognized in the best drone-based solution category. Microdrones of Germany was best drone manufacturer; Unifly of Belgium, best emerging drone company.
"I think there are many use cases for indoor application" of drones, Viguria said. "The good thing," he added, "is that aeronautical authorities do not regulate the indoor environment."
Airbus has already demonstrated the use of Ascending Technologies' Falcon 8 drone with RealSense depth-sensing technology from Intel to visually inspect airliners. The manufacturer has said it will implement drone inspections of the A350XWB widebody airliner this year.
"Now it's a manual system with people having to climb all over the plane," Intel CEO Brian Krzanich told the Xponential 2017 conference in Dallas in May. "With Airbus we've developed a system that's capable of doing [inspections] both on the tarmac or in the hangar. Airbus has developed additional software that allows you to do an airplane inspection, identify and geolocate defects, understand their size and dimensions, then push out a data report that allows you to go back and do a repair."
Boeing has also demonstrated the use of a DJI Phantom quadcopter for 737 Max waterspray testing in Glasgow, Montana. "For the first time, engineers will have a view from above as well as below, capturing footage to help determine how the airplane will stand up against mother nature's torrents," the manufacturer states in a video.
http://www.ainonline.com/aviation-news/aerospace/2017-06-18/spanish-project-introduce-drones-airbus-plant