State Farm Gets OK for Long Range Drone Flights to Assess Hurricane Damage
The Federal Aviation Administration (FAA) recently granted a waiver to State Farm to allow the insurer the ability to inspect damage caused by Hurricane Florence.
The approval, received just last week, allows State Farm to operate drones on longer range flights and above people – something it could not do operating under Part 107 rules.
"That requirement through the small UAS rules, to maintain the vehicle within line of sight, that can limit how far we can fly and it limits some of the opportunities for us to fully utilize the technology," Todd Binion, P&C claims staff consultant for State Farm explained. "The other limitation…that creates challenges is the prohibition of flying over people."
He said that limitation can be problematic during times of disasters when recovery efforts are underway.
The insurer has been testing drone flights since 2012 and currently uses UAVs for single roof inspections.
For about a year, State Farm has partnered with Virginia Tech and the Mid-Atlantic Aviation Partnership (MAAP), which offers an FAA approved UA test sites. He said it was important to build a safety case to show the FAA that drone flights could be completed in a safe manner.
The waiver allows the insurer to "leverage drone technology to fly larger areas and even in areas where there might be people and to document how we might do so safely," said Binion.
According to an FAA spokesman, ""The FAA has not previously granted an insurance company a combination of waivers for drone operations over people and beyond visual line-of-sight."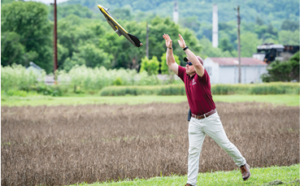 The company will use senseFly eBee drones, Binion said. MAAP helped the insurer review drones available on the market. He explained their range is about 1.25 miles from the where the pilot is located. Weighing a little over a pound and made of foam, they offer the lowest risk of injury or damage if a crash were to occur.
The waiver is specific to the operation of that aircraft.
Binion said the approval applies to four states: North and South Carolina, Virginia and Georgia.
The drones will provide high resolution images of Hurricane Florence-affected properties which the insurer can then use to evaluate the level of damage severity and the services it can provide customers.
The purpose of the waiver, according to Binion, is primarily operational, giving State Farm's team a chance to get comfortable using the aircraft and working within its parameters.
Mark Blanks, director of the Mid-Atlantic Aviation partnership at Virginia Tech said this was an important step toward looking at drone policy from the state and federal level.