Terrorist drone threat: US unprepared for growing danger, experts say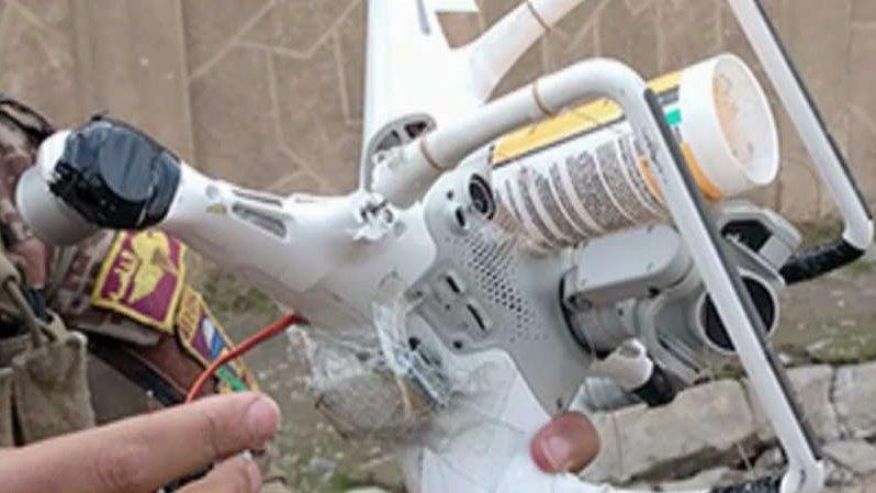 The emergence of terrorist drones flown by ISIS in Iraq has fueled interest in drone-defense technology – while raising questions about whether the U.S. is ready for potential drone terrorist attacks on the homeland.
Over the last six months, ISIS has increased its use of weaponized and surveillance drones against Iraqi and U.S. forces. U.S. Central Command told Fox News coalition troops have as many as 30 encounters a week with unmanned aerial vehicles. These drones are inexpensive ones modified to drop grenades or to surveil troop movements.
Underscoring the accessibility and affordability of these drones: During the last two months, the U.S. military has destroyed at least five ISIS drone facilities, including one factory and four storage facilities.
TRUMP GIVES CIA POWER TO LAUNCH DRONE STRIKES
ISIS has posted online propaganda videos touting its drones along with detailed tutorials explaining how to arm them. The emerging drone threat has led some experts to question whether the U.S. is properly prepared to defend itself against possible drone terrorist attacks.
"Unfortunately, I don't think we're ready right now," said Michael Waltz, a former U.S. Army Special Forces commander. "We don't have the technology – both the detection technology and the counter-measure technology – in place yet."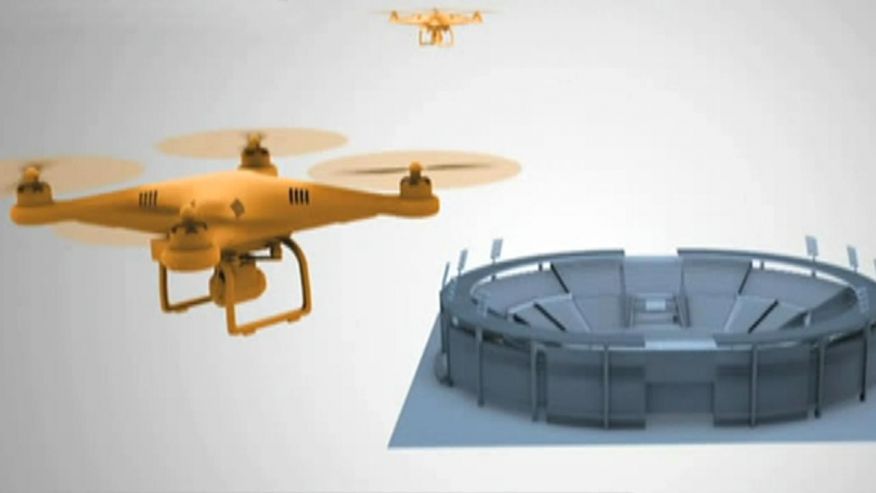 As drones become more prevalent, Waltz believes it is imperative that the U.S. government begins to secure its critical infrastructure, like power plants, military bases, and nuclear facilities, from possible weaponized drones.
"I do think it's just a matter of when," Waltz said of the possibility of being attacked. "A nightmare scenario could be 20 to 25 of these drones that you could buy over the counter that have been weaponized with explosives that you can put on a timer with GPS coordinates to a military base or a nuclear facility or Capitol building that could attack in a swarm-like fashion."
HOW ISIS IS TURNING COMMERCIAL DRONES INTO WEAPONS IN THE BATTLE FOR MOSUL
This threat has fueled the counter-drone industry, made up of dozens of drone defense startups, which have experienced a substantial uptick in inquiries from prospective buyers during the last six months – coinciding with ISIS's growing use of the unmanned gadgets. According to the CEO of Droneshield, a company started three years ago, prisons, stadiums, local law enforcement and foreign governments have all expressed renewed interest in this technology that detects and mitigates unwanted drones.
"We have sold our countermeasure product to a Middle Eastern ministry of defense, which is close to the U.S., and we have sold our detection product to the office of the prime minister of Turkey," Droneshield CEO Oleg Vornik said. "Today, we are in 35 countries around the world."
Droneshield offers various counter-drone technology options like a Dronegun. The Dronegun is a jammer that looks like a heavy gun. Operators simply aim at a drone and the Dronegun sends signals that allow users to take control of the drone to land it safely on the ground. The operator can also send an unwanted drone back to the location from where it took off.
WOMAN BRANDISHES GUN, SCARES OFF DRONE
The company also offers acoustic technology that detects drones too small to be picked up by radar, by listening for its unique sound signature.
Another company, Department 13, offers its MESMER software that integrates into security systems. The software detects drones through a process called protocol manipulation – the software identifies a drone's unique signal signature and allows operators to then hijack and take control of it.
While law enforcement agencies and operators of amusement parks and prisons have expressed interest in the technology – engaging with a drone can be tricky, if not illegal, because current U.S. regulations make it all but impossible to shoot down or take control of a drone. Only the federal government can take down drones because current laws consider them an aircraft.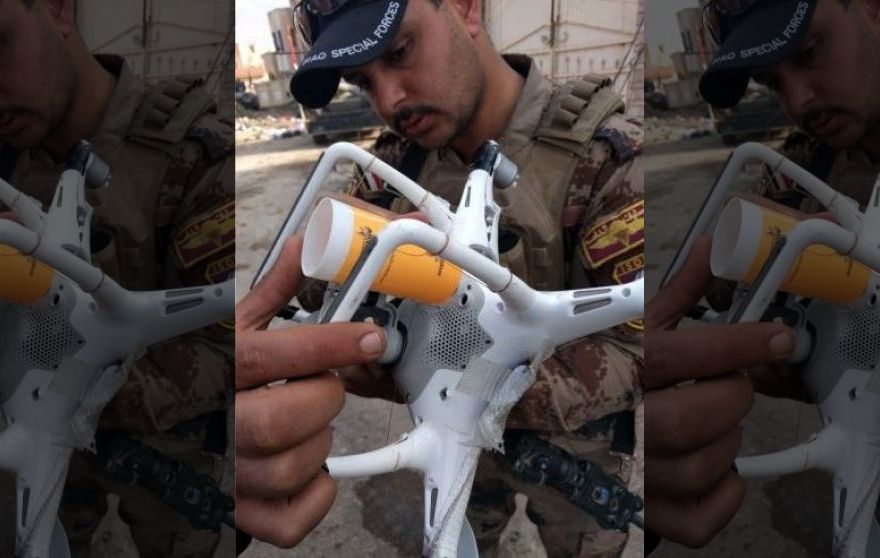 Expand / Contract
Iraqi Counter Terrorism Service soldier in Mosul examines an ISIS drone modified to carry a 40mm rifle grenade in the attached plastic tube. Grenade is dropped when the drone is over Iraqi forces. (Mitch Utterback)
HUGE DRONE CAN LIFT 500 POUNDS
Counter-drone companies want to see these regulations changed.
"We can offer detection, but unfortunately for me to engage a drone, I'm breaking three or four laws," Department 13 CEO Johnathan Hunter told Fox News.
The biggest customer for companies like Droneshield and Department 13 is the Department of Defense. The U.S. military is actively trying to develop capabilities to stop drones on the battlefield, awarding $80 million in drone-defense contracts in February alone.
FOR THE LATEST TECH FEATURES FOLLOW FOX NEWS TECH ON FACEBOOK
The military's leading research and development branch, the Defense Advanced Research Projects Agency, has called on startups to look for inventive ways to detect and destroy drones – particularly a drone swarm, possible attacks by hundreds of drones. In fact, the office of the secretary of defense reportedly said counter-drone budgets will see "significant" increases in 2018.
Still, while the U.S. military looks for solutions, the concern is whether soft targets will be exploited by ISIS or its followers in the U.S.
"The DOD is really moving full-steam ahead," Waltz said. "But the department of Homeland Security and the FBI are lagging and need to get much smarter and focus on this threat before there's a major incident we all fear."
Bryan Llenas currently serves as a New York-based correspondent for Fox News Channel (FNC). Click here for more information on Bryan Llenas. Follow him on Twitter @BryanLlenas.