U.S. powerless to fight drone attacks, top official says
The Department of Homeland Security is pressing Congress for more powers to stop malicious drones that could threaten the United States. Intelligence officials are increasingly concerned about the use of drones by terrorists and drug cartels. CBS News correspondent Jeff Pegues got rare access to some drones in action at a Customs and Border Protection facility in Tucson, Arizona.
CBP officers fly drones along the Mexican border looking for people attempting to cross illegally, but also for something else: drones used by drug cartels or terrorist organizations looking to surveil – or even worse – harm the U.S.

Pegues walked part of the border with DHS' top intelligence official David Glawe and Customs and Border Patrol Chief Rodolfo Karisch.
"If you want to move people, narcotics, God forbid weapons of mass destruction, or anything else over the border, you have a surveillance location that can be now automated with drones at a very inexpensive cost by organizations outside of the United States," Glawe said.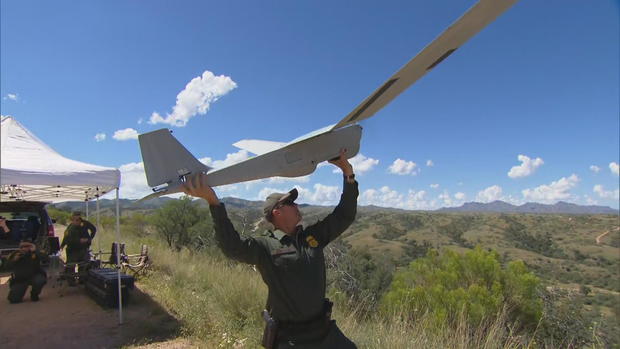 What was impossible for terrorist organizations is now possible. ISIS has perfected drone use to drop precision bombs on their enemies. And in Venezuela this summer, as President Nicolas Maduro gave a speech at a military event, drones dropped explosives within striking distance of the podium.
"Any time drones are used for an attack, what appears to have been an assassination attempt, it's gravely concerning," Glawe said.
Glawe took CBS News to the command center where they watch for drones approaching the border. He says what concerns him the most is a weaponized drone threatening the Super Bowl or even the White House, where a harmless drone landed in 2015. Right now, no law enforcement organization in the U.S. can legally jam or shoot down drones.
"I think we want the opportunity to have all tools in the toolbox for our law enforcement officers. To identify good from bad is a key component," Glawe said.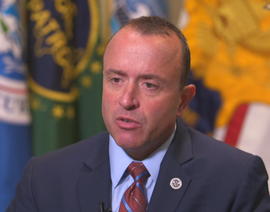 DHS wants Congress to give it the power to "redirect, disable, disrupt control of, seize, or confiscate, without prior consent" a drone that "poses a threat." DHS Secretary Kirstjen Nielsen warned in a speech in early September that drones are now "a major national security concern in our homeland."
"Outdated laws prevent us from setting up the sophisticated defenses we need to protect big events, federal facilities, and other potential targets from an airborne menace," Nielsen said. "DHS does not have the clear legal authority to identify, track, or take down dangerous drones. We can't even test our defensive measures in civilian environments."
A Senate committee approved such legislation over the summer, but the bill is now stalled with civil liberties organizations saying there is too much room for error.
"It's a problem because it means that DHS can shoot a drone out of the air or seize it and they can do so without ever having a judge look at their actions and determine if they were right," said Neema Singh Giuliani, legislative counsel with the American Civil Liberties Union.
Glawe says action is needed now.
"This threat is upon us today. I wake up in the morning and night just hoping we don't have an attack," Glawe said.
Border patrol's Rodolfo Karisch says drones they've seen along the border are already capable of carrying weapons.
"There are drones now that have the ability to carry up to 300 pounds if not more of a payload. So that is a significant risk for law enforcement officers and agents in this country," Karisch said.
But today, federal agents can only track a drone and try to catch it when it lands. After that, there is little else they can legally do.
The Secret Service refused to discuss what it would do if a threatening drone was headed for the White House. Law enforcement sources tell CBS News privately they already have the capability to take down a drone or jam it. Technology is evolving rapidly, they just say the laws haven't kept up.
© 2018 CBS Interactive Inc. All Rights Reserved.
More CBS This Morning
Latest from CBS News
CBSN Live
Follow Us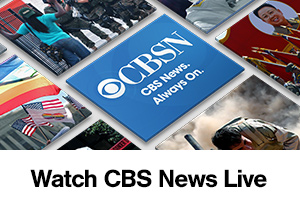 Watch CBS News anytime, anywhere with the our 24/7 digital news network. Stream CBSN live or on demand for FREE on your TV, computer, tablet, or smartphone.
Popular On CBS News
Previous Next
The Uplift: Stories That Inspire